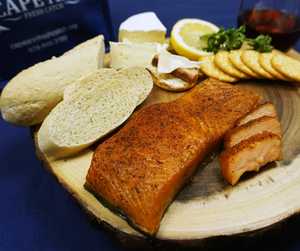 Our classic hot smoked salmon is made with the highest quality cuts of salmon. The ingredients are simple and tasty. We only do small batch so each piece is cooked to perfection. Great as an appetizer, in a wrap or sandwich, on a salad or even for breakfast over toast.   

Available in Center Cut or Tail.
Center Cuts include Top Loin, Loin and Belly and are available in approx. .35 Pound Pieces.
Tails include Tail and Second Cut, available in .65+ Pound Pieces which means your piece will be at least .65 Pounds. 
Ingredients: Fresh Fish, Salt, Sugar, Herbs and Spices